North Macedonia is a country that's right in the middle of the Balkan region, as well as today's modern Caucasus region. The region itself has a rich winemaking history, dominated by red wine making. It is a landlocked country bordering Greece, Albania, and Bulgaria. While it has some international grape varietals, much of the production centers around 2 native varieties, Vranec & Kratosija. Don't mix it up with Greek Macedonia!
GENERAL TERROIR & HISTORY
North Macedonia is one of the best kept secrets of European wine country. It's a natural paradise of vineyards, mountains, lakes and rivers. Life takes a different rhythm, with a rich history of historical ruins and idyllic villages that have remained practically unchanged.
Despite it's long wine history, as with other Caucasus regions, wines from North Macedonia are relatively unknown to the rest of the world.
In the past, wines from North Macedonia were grown to supply the armies of Alexander the Great. The old Roman road– Via Egnatia, which passed through the Macedonian country, was of great importance for the development of the viticulture as well as wine production. The wine produced here was transferred in amphorae to the harbours in important ancient Roman cities.
The first winery of modern ages was opened in 1885 and is today the largest winery in Southeast Europe. In this wine cellar, wine had been packed even before the 20th century, and the winery even than had a semi-automatic machine for filling bottles. However, phylloxera & the world wars made for decades of stagnation in the wine industry.
After becoming an independent state in 1991, massive investment was needed, as well as a focus on quality. State owned wineries became privately owned, and a number of small family owned flourished all over the country, including Tikves.
Over time, 3 main wine regions have emerged, together with the setup of the Wines of Macedonia marketing association, creating more visibility and increasing the quality of North Macedonian wines. It's wines are today distributed within the EU & the Balkan states, and is the country's second most important export product.
MAJOR WINE VARIETALS & STYLES
The champion grape varietal of North Macedonia is Vranec, a local varietal that originated in Montenegro, a neighboring state in the Balkan region, but is commonly planted in North Macedonia - 30% of vineyards actually.
80% of the vineyards are planted with red wine varieties, in addition to Cabernet Sauvignon and Merlot, especially with local varieties such as Vranec, and Kratosija. The white grape varieties are the Temjanika, and Serbian Smederevra.
SPARKLING WINE
Allthough quite rare from North Macedonia, it's possible to find sparkling wines. Most of them are made in the traditional method, and majority are made in the Champagne style using Chardonnay & Pinot Noir grapes, although it is possible to find some versions of Demi-Sec from Temjanika.
FULL BODIED WHITE WINE
International Varieties: Chardonnay
Caucasian Varieties: Rkatsiteli
Local Varieties: Smederevka
Chardonnay from North Macedonia come in both oaked & unoaked versions, and are mostly found in the Skopje, Veles and Tikves districts. Unoaked versions have dominant freshness, with fruity aromas of apple, citrus & bananas. Oaked styles have floral & spiced aromas.
Rkatsiteli originates from Georgia, and was introduced to Macedonia in the 1950s. Mostly grown in the Skopje district, it's often used as a blending grape to inject acidity to the blend, and is characterised by fresh fruity flavors of apple, pear, apricot, mango, peach, grapefruit and pineapple.
Smederevka is the leading white grape varietal in terms of production in Macedonia. One of the oldest varietals in the Balkan region, it mostly grows in the warmer regions of Macedonia, producing drinkable wines with gentle wine aromas. If you enjoy Pinot Grigio, you should give Smederevka a try.
AROMATIC WHITE WINE
Local Varieties: Temjanika
Temjanika grape is a somewhat mysterious grape with a beautiful history. Originally, the history of the Temjanika lies in the Middle East, but the Macedonian winemakers quickly appreciate this grape variety. It grows mainly in the Tikves district, and is another name for the Muscat Blanc a Petit Grains. The juice is colorless with an intense Muscat aroma. Fruity notes of peach, apricot, dry plum and orange are dominant, with a finish of basil and incense. It can be produces to create various styles of wine, from dry to sweet.
LIGHT BODIED RED WINE
International Varieties: Pinot Noir
The Pinot Noir from North Macedonia have depth & power, while retaining the elegance & balance between fruit & earthy notes. The young wines are characterized by easy, fruity aroma and as they mature their taste turns to game animals or becomes spicy as a black truffle. The Macedonian Pinot Noir is a wine of terrific elegance and complexity.
MEDIUM BODIED RED WINE
Local Varieties: Vranec, Kratosija
International Varieties: Plavec Mali
Vranec is a very intense, dark grape that is associated with strength, success and strength. It is often also known as 'black stallion', and is an offspring of Zinfandel (or Primitivo). The wine owes its dark color to the large presence of dyes in the grape, and has a very rich scent with the aroma of ripe fruits. Expect rich aromas of black fruit, blackberries, overripe Marasca cherry, prunes, and subtle notes of game. On the palate, these wines are often dry with refreshing acidity, full-bodied with velvety well-rounded tannins, and pleasantly warm but high alcohol content. Barrel aged wines would have complex aromas harmoniously united and similar to wild berries, chocolate and liquor. Additionally, they are often blended with international varieties like Merlot, Cabernet Sauvignon and Syrah
Plavec Mali is often used as a blending grape with Vranec to give it a richer fruity structure. Originally from Croatia, this varietal is grown in the warmer regions of North Macedonia.
The Kratosija grape has grown on Macedonian territory since ancient times. It was briefly threatened with extinction due to its popularity, but luckily Kratosija survived. It actually is the same variety as Primitivo or Zinfandel, from Croatian origins, and is a versatile wine with strong & intense characters, despite it's light red color. When young, the wines can be fresh & juicy, like a Beaujolais style wine, but with time, it can evolve to have more dominant spiced aromas.
FULL BODIED RED WINE
International Varieties: Cabernet Sauvignon, Syrah, Merlot
Cabernet Sauvignon, Merlot & Syrah are some international varieties that have been imported to North Macedonia. They are often used as blending grapes to create bold wines, often blended with Vranec.
MAJOR REGIONS / SUB-REGIONS
Macedonia has the same natural potential as some of the world's best wine hubs like Southern France, Southern Italy & Spain. Geographically, Macedonia consists of three winemaking regions; Povardarie, Pelagonia-Polog, and Pchinja-Osogovo. The three regions are further divided into 16 districts based on several different factors. The most famous district is the Tikves District, which produces the best wine and most of Macedonia's wine.
The main wine region of Povardarie is where continental and Mediterranean climates converge, with hot, dry summer temperatures, as well as a range of soils including red clay, silt, sand and limestone. Pcinja-Osogovo in the north has a more continental climate, while Pelagonija-Polog in the south has a more mediterranean climate moderated by large lakes.
POVARDARIE (CENTRAL REGION)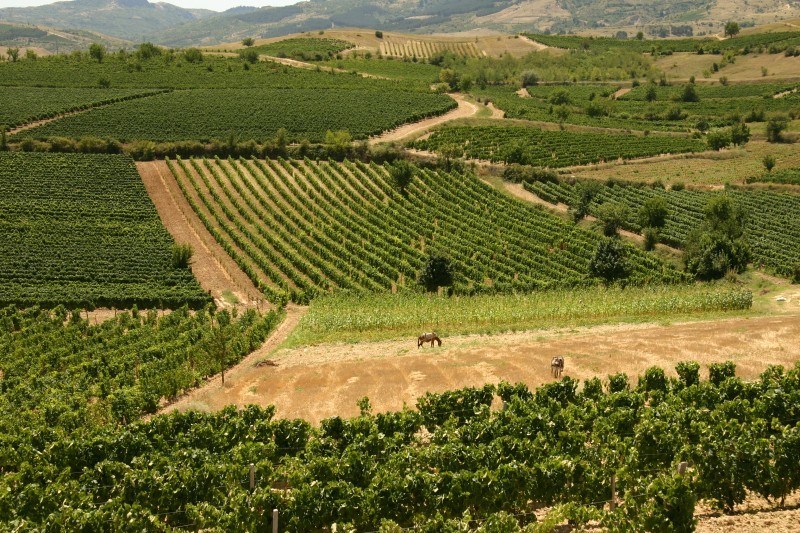 Macedonia's central winemaking region is Povardarie, consisting of the hills and valleys surrounding the Vardar River. The Povardarie Region consists of all cities and villages located on the Vardar River. The region accounts for 83% of Macedonia's total wine production, and most of the wine produced in Povardarie is red. 
The most common wine varieties are Vranec (red) and Smederevka (white). Tikves is the oldest and largest winery in Macedonia, and was founded in 1885. It's also (arguably) the largest winery on the Balkan Peninsula because this was one of the most important wineries of the former Yugoslavia. Even before that, the Royal winery of the Serbian king was located here.
PELAGONIA-POLOG (WEST REGION)
The Pelagonia-Polog region accounts for 10-15% of the total wine production. The climate is predominantly that of high mountains, characterised by cold and humid winters and hot and dry summers. A majority of production in this region comes from international grapes.
PCHINJA-OSOGOVO (EAST REGION)
The third and smallest wine region in Macedonia is Pchinja-Osogovo. It covers the eastern part of the country and accounts for less than 5% of the total wine production. Despite the small production, some of the wines that were produced in these wineries are on par with the wines in the Tikves region, and the region hosts some of the most modern wineries from North Macedonia. Being the most mountaineous & arid region, the climate is continental temperate, colder than Central and Eastern regions with strong northern winds. Local varieties dominate the region.